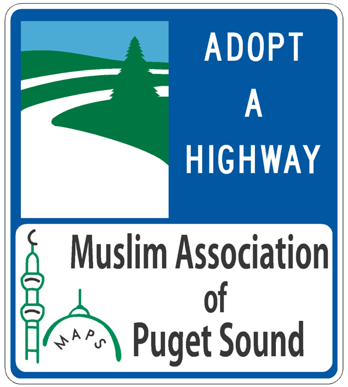 04 Feb

Introducing MAPS-NOW (Nature, Outdoors and Wildlife)

Assalamu Alaykum Dear Community,

"And it is He who sends down rain from the sky, and We produce thereby the growth of all things. We produce from it greenery from which We produce grains arranged in layers. And from the palm trees – of its emerging fruit are clusters hanging low. And [We produce] gardens of grapevines and olives and pomegranates, similar yet varied. Look at [each of] its fruit when it yields and [at] its ripening. Indeed in that are signs for a people who believe." [Qur'an 6:99]

Summary:

Today we are excited to announce a new initiative MAPS-NOW (Nature, Outdoors and Wildlife) with the specific mission "to make our neighborhoods and environment more ecologically sustainable, to preserve nature and wildlife in Puget Sound and across Washington State through collaboration, education, and volunteering." As a part of this initiative we are sponsoring 

Adopt-A-Highway

signs at 3 prominent locations, working with WTA to

restore popular hiking trails and preserve wetland areas

, as well as,

further education about nature.

Make the launch of MAPS-NOW a big success by volunteering, expanding the charter and donating. Email 

now@mapsredmond.org

 for details and donate here:

Donations for MAPS-NOW activities are eligible for corporate matching by local companies.

We are truly blessed to be living in the Pacific Northwest! The abundant greenery, rivers, lakes, waterfalls, mountains and wildlife constantly reminds us of the mercy and majesty of Allah, The Giver of life (Al Muhyiy). As Muslims, we are also duty bound to preserve the creation of The Creator (Al Khaliq). We are required to ensure that nature around us remains beautiful and to never ruin it. With this in mind, we are launching MAPS-NOW led by Ozcan Ilikhan. MAPS-NOW will have 3 goals:

1.  Protect and maintain hiking trails and wetlands

2.  Collaborate with city departments for the preservation of parks and on habitat restoration

3.  Collaborate with the State on road/highway cleaning

To realize these goals, MAPS-NOW are launching the following activities immediately:

1. Adopt-a-highway

MAPS is paying for and adopting 3 highways at the following locations:
I-5 Southbound at Exit 186 (1 sign)
I-5 Northbound at 164th St SW (1 sign)
I-405 Interchange at SR 522 (2 signs)
WSDOT has approved the placement of the "Adopt-A-Highway" sign below at these locations. Please be sure to look for the signs as you drive by.
2. Hiking Trails and Wetlands
We are collaborating with Washington Trails Association (
wta.org
) to preserve, enhance, and promote hiking opportunities in Washington state through collaboration, education, advocacy and volunteer trail maintenance.  A group of volunteers recently joined trail the maintenance work party  at the Pratt Lake Trail (picture below).
3. Education
Look for specific presentations and training at MAPS in the coming weeks to learn about nature and wildlife preservation. We are planning (free) education workshops by local groups and will be advertising the details soon.
How can you help?
Please help us make the launch of MAPS-NOW a big success by volunteering, expanding the charter and donating. We are calling volunteers to keep the sponsored highway strips clean and we are calling volunteers to work on the next hiking trail project. To volunteer or contribute ideas please email 
now@mapsredmond.org
. To sponsor these activities, donate here
MAPS aims to be a platform for our community members to come up with programs and ideas that further the timeless goal of Islam – that of being a benefit to the world. MAPS-NOW is our latest such program. We encourage everybody to create their own program and approach the board with ideas.
May Allah, The Almighty, preserve our state and keep our region eternally beautiful!
Ameen
Mahmood Khadeer
MAPS President