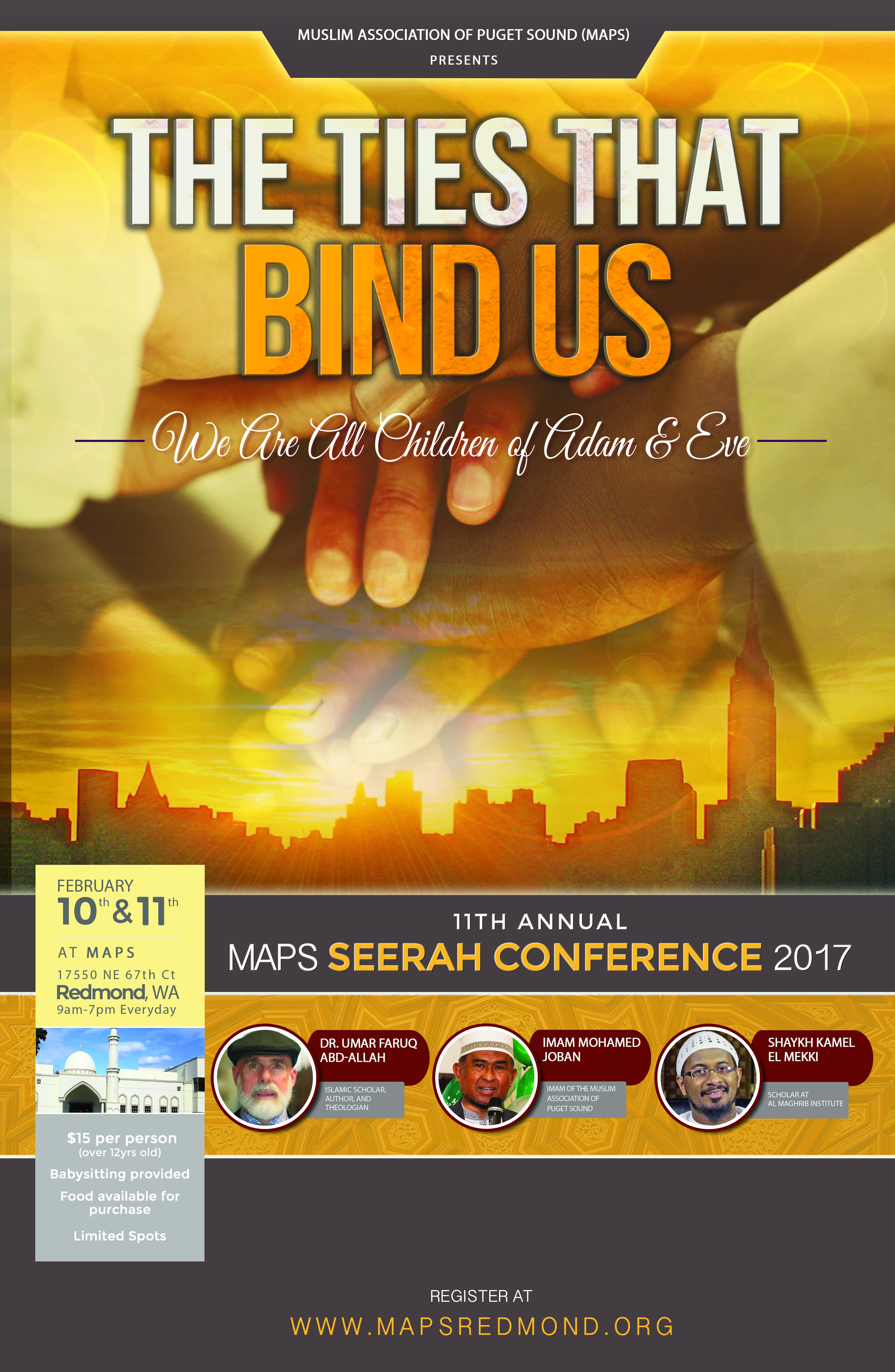 26 Jan

11th Annual Seerah Conference

Assalamu Alaikoum / Peace be upon you

MAPS is very pleased to announce the registration of our 11th Annual Seerah Conference, which also coincides with the Black History Month on February, 10 & 11, 2017. Please find all the details below along with a registration link. Please register ASAP to help us plan the event.

We've listened to your feedback and optimized the whole conference to make best use of your time. Friday night, we've dynamic speakers tackling our top of mind concerns and challenges and Saturday we've workshops. In case, you can only attend part of the conference, feel free to choose the topics and workshops you want to be part of. Please refer to the whole program for Friday and Saturday at the link below and make your own plan. Participate as much as possible even if you can't attend both days.
The Tie That Binds Us: All Children of Adam & Eve
O mankind, indeed We have created you from male and female and made you peoples and tribes that you may know one another. Indeed, the most noble of you in the sight of Allah is the most righteous of you. Indeed, Allah is Knowing and Acquainted.[Quran 49:13]
All mankind is from Adam and Eve, an Arab has no superiority over a non-Arab nor a non-Arab has any superiority over an Arab; also a white has no superiority over a black nor a black has any superiority over white except by piety and good action. (Prophet Mohammad)
Friday, Feb 10, 2017

–

6:45pm to 10:15pm
Speakers
Imam Mohammad Joban
Sh. Kamal El Makki
Dr. Umar Farooq Abdullah
Youth & Main Tracks
Saturday, Feb 11, 2017

  –

11:30am to 4:30pm
MAPS-AMEN Sponsored
Workshop: Racism within the Muslim community
Documentary "13th" and Discussion
Babysitting will be provided, limited slots, come early 
Cost: $15 per person over 12yr old