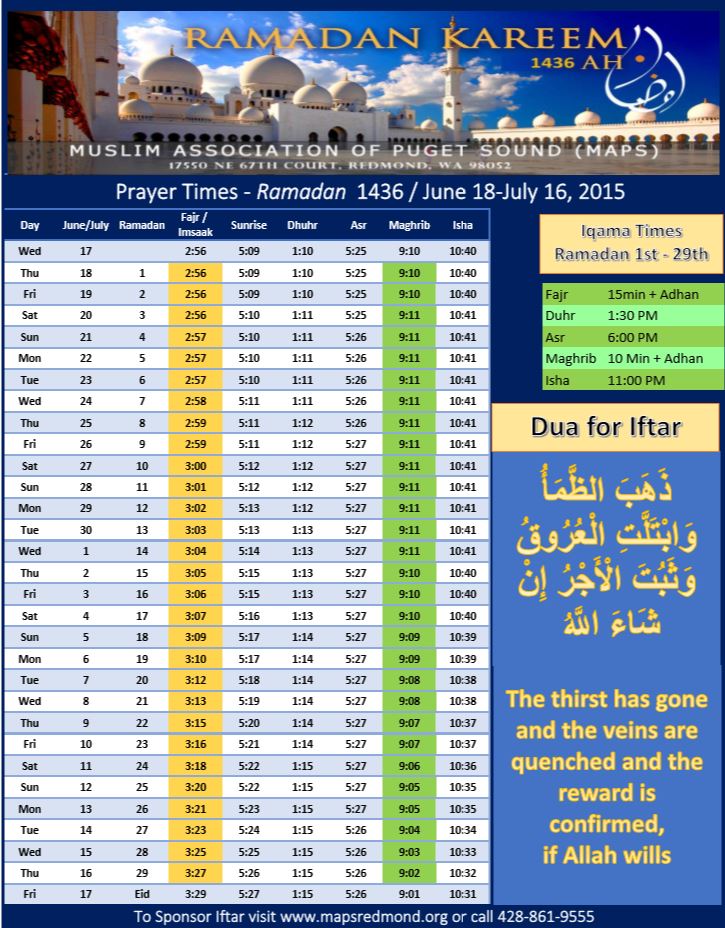 11 Jun

Prayer Time During Ramadhan
Isha Time During Summer Peak Months
Due to the late Isha times in summer, MAPS follows the opinion of "estimation" to calculate Isha Adhan time in the summer months, i.e. 90 min after Maghrib time, based on maximum difference between Maghrib & Isha in Makkah al Mukarramah.
To accommodate more people and in the spirit of inclusiveness, as best as possible, we start the Isha prayers (Iqama) 20 min after Isha Adhan time in the peak summer months, including Ramadan. Isha prayers (Iqama) never goes beyond 11:00pm.
11:00pm of Isha is still very late considering school going kids and people who start their work day early morning. To address this situation, as of last year, we started offering a second option of offering Isha prayers right after Maghrib ~9 pm.

We'll continue to hold regular Isha prayer at 11:00pm

. This combined Isha prayer option with Maghrib will be offered between May 20 and July 31 during weeknights (excluding Fridays, Saturdays, and Ramadan).