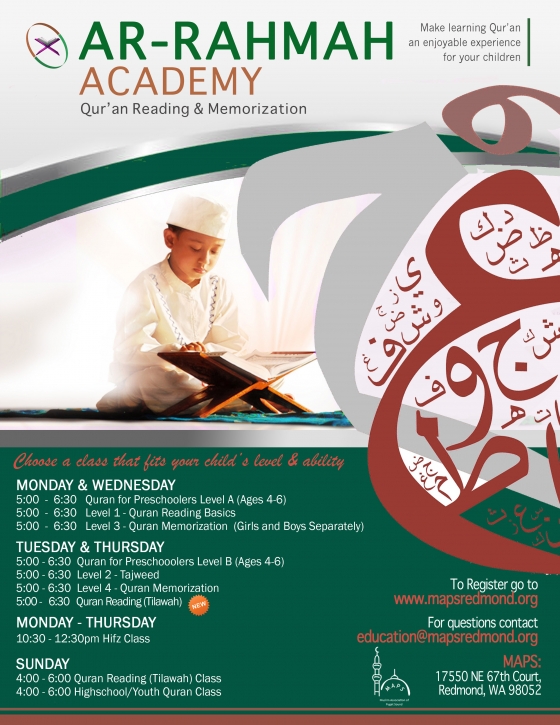 31 Dec

Ar Rahma Qur'an Class

Assalamu Alaikum, as we enter our Winter break, we are getting ready for our next trimester.
Here are some updates:
We introduced a new class this year for students interested in reading Quran fluently (Quran Tilawah.) We have had very good response for this new class. Students are making great progress in their fluency.
Alhamdulillah, our Preschool classes are always popular. And level 1, 2 & 3 students have been making great strides with our wonderful teachers. May Allah reward all our teachers for their tireless dedication to the community.
Alhamdullillah, our full time Hifdh class under the leadership of Sheikh Nabil has made remarkable progress. We have had 3 students complete Quran memorization in the past 4 months. And with more to graduate in the next year, Insha Allah. Check out the pictures below.
Last but not the least, Alhamdulillah, our Ijaza program with Sh. Nabil has been very busy. We have had 3 students who have graduated, and continuing on with other Qira'at.
Registration for returning students will open April 3th
 for the next trimester (April 12
th
 – June 11th.) Please note that all payments and registrations will have to be done online at 
www.mapsredmond.org
 or at the kiosk in the masjid.
All Returning students have to register again and pay fees at the kiosk or online.
Registration for new students will open April 3rd – REGISTER
Jazakallah Khairan
Ar Rahmah Academy