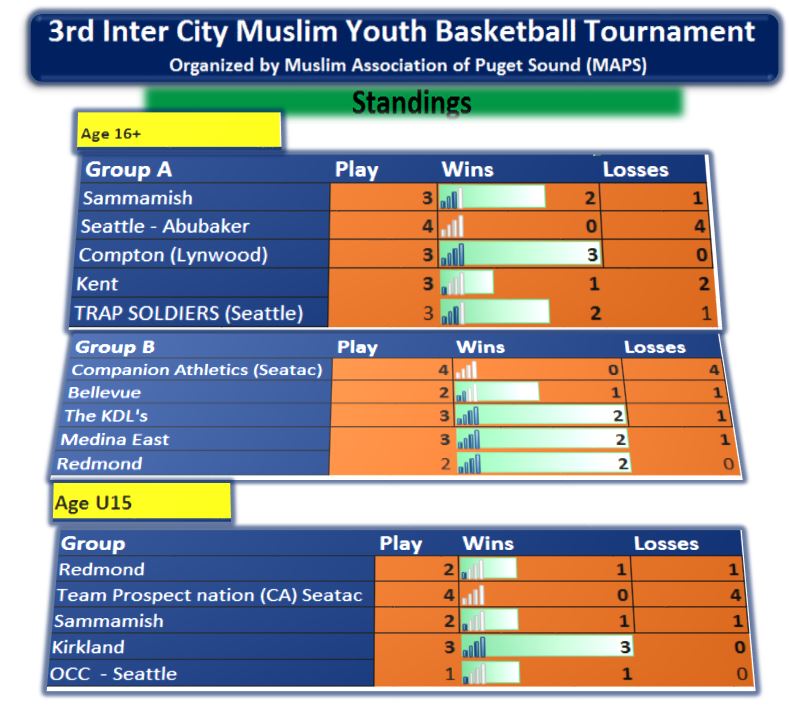 02 Apr

Friday Family Night @ MAPS – 5/22/2015
Friday Family Night Program
Assalamu Alaikum Wa Rahmatullahi Wa Barakatuhu,
It's tournament night at MAPS, where our Muslim Youths across Seattle area are competing for Basketball Championship. We invite you all to come to MAPS to encourage our youths and have a great time watching some exciting games live.
Following activities are planned for Friday, 5/22, inshAllah:
Program

Speaker/Lead

Time

Place

Short Khatira
9:00 PM (after maghrib, Iqama at 8:55pm)
Main Prayer Hall
Converts Halaqa
Topic: "Madhab" (how and why madhabs were formed and what a normal Muslim can do in this regard.)
Br. Moustafa Bassyiouni
7:30 PM
Conference Room
3rd Inter City Basketball Tournament
5 Games – Schedule below 

5:00 PM to
10:00 PM

Gym
With 15 teams competing for the grand trophy, the 3rd Inter-City Basketball Tournament at MAPS has been a lively, impressive and thrilling contest. Compton (Lynnwood) leads the 16+ group A and Kirkland leads the U15 group with 3 wins each. We have seen some real good basketball so far. The games are being officiated by professional referees from Puget Sound Basketball league
The games resume this
coming Friday
and
Saturday
and we will see if one of the several runner-ups will steal the lead. Come and cheer your team, your city or your mosque. We will be having amazing games, great food from Jawahara cafe and a safe fun time for all.