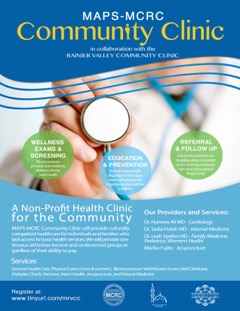 03 Jul

Grand Launch of MAPS-MCRC CLINIC on July 17th from 10AM-1PM!

Assalamu Alaykum / Peace be upon you

The Muslim Association of Puget Sound (MAPS) is very pleased to announce the launch of a non-profit clinic providing free or subsidized health services to the community. MAPS-MCRC Clinic is our latest addition to the health services we provide to the community (health halaqahs, health fairs, dental vans and blood collection). This new initiative is being led by MAPS Social Services (Outbound Good) arm, MAPS-MCRC. The first clinic session is being scheduled on July 17th from 10AM-1PM at MAPS in the MPR room.

We are launching the clinic under the guidance of and in collaboration with the Rainier Valley Community Clinic (RVCC), a clinic based in South Seattle dedicated to the care of local families of color. We will provide health and social services to all regardless of race, gender, religion, social class or status.

Our goal is to provide culturally competent healthcare for individuals and families who lack access to basic health services and we will provide continuous aid to low-income and underserved groups regardless of their ability to pay. Following the benevolent traditions of Islam, we believe that everyone should have access to basic health care.

Our services will be the following:
Wellness Exams and Screening: blood pressure, physical examinations, diabetes checks, heart health
Education and Prevention: help decrease health disparities in the future and to emphasize the importance of preventive medicine
Referral and Follow Up: ensure that patients can be adequately connected to pre-existing continuity care clinics throughout King County
Individuals in our community who have insurance can help the clinic maintain its function by scheduling an appointment as well. Two people with insurance will help cover the clinic cost of every uninsured patient in need. All insurances will be accepted; payment will be accepted on a sliding scale starting at $0.
How to schedule an appointment:
Go to www.tinyurl.com/mrvcc 
Scroll down to the bottom of the "Select a Services" box to the "RVCC @ MAPS MCRC" Clinic
Pick a provider to schedule your appointment with for July 17th.
Drop in Appointments will also be available the day-of clinic and will be given on a first come-first served basis.
Our Providers and Services:
o   General Healthcare/ Wellness Exams
o   Physical Examinations
o   Blood Sugar and Blood Pressure Checks
o   Heart Health
o   General Wellness
o   Well Woman Exams
o   Pediatrics
o   Physical Examinations
o   Blood Sugar and Blood Pressure Checks
o   Acupuncture
If you have any questions OR are a health care provider and would like to volunteer with the MAPS-MCRC Clinic, please email: nehathsh@gmail.com.
If you would like to donate to support this new MAPS-MCRC Clinic initiative, please click on the link below.
www.tinyurl.com/mapsmcrcdonate
We are truly excited about this new initiative. Please help us make it a success.
Thank You
Nehath Sheriff
MAPS-MCRC- Clinic Director