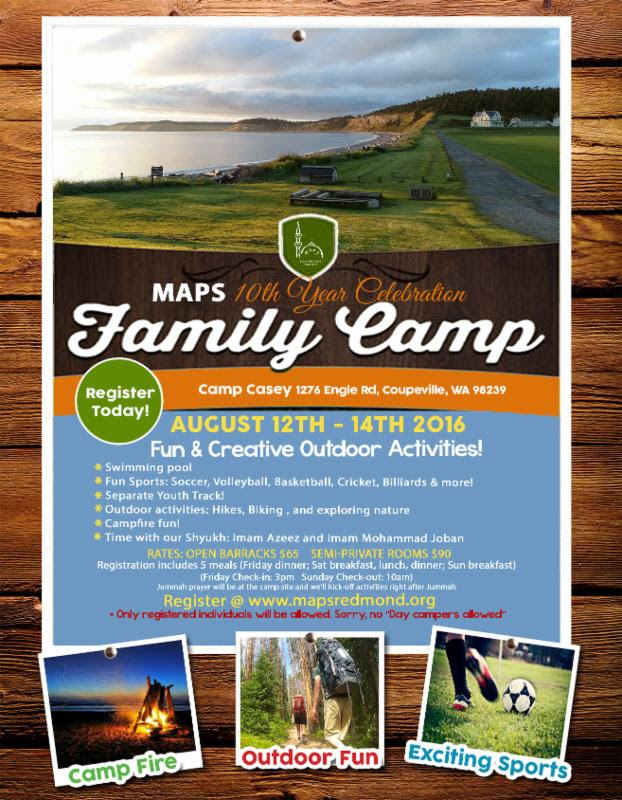 28 Apr

MAPS 2nd Annual Family Camp at Camp Casey, Widbey Island, WA

Assalamu Alaykum,

We are all ready Insha-Allah to be spending a great week-end and retreat on Whidbey Island this coming week-end. 265 community members have registered and plan to attend. We have a good set of activities for all ages planned (see program below). Imam Azeez from Sacramento, CA will be our esteemed guest. Imam Mohammad Joban and our staff will be there as well.

We have a very limited number of open rooms still available. If you would like to join and have not registered, please register before tomorrow. At this time, we are not accepting cancellations.

To register send email to Br. Juned Ansari: juned.syr@hotmail.com

Please read the instructions below if you are registered for the event.  
Please try to leave before

noon

to avoid traffic.
You are encouraged to come early and enjoy the beach walk, lunch, socialize, and familiarize yourself with the camp site and facilities.
Jummah prayers will be at

2:30pm

 after which you can checkin.
For checkin, inshAllah look for your building and registered names on the door to find your room.
Come prepared and remember to bring:

Camping chair for camp-fire,
Kites and water guns for water-fights,
Sports gears (basketball, football, soccer, volley-ball, cricket, frisbees, hiking boots, beach-walking shoes, etc.),
Bikes to go on bike tour to Coupeville village city center,
Swimming costume (we have reserved timings for brothers and sisters with respective lifeguards).,
Camp Location
Camp casey conference center
1276 S Engle Rd
Coupeville, WA 98239
We are looking forward to this once-in-a-year event and looking forward to a great time together!
Jazakum Allah Khairan
Semi Private Registration:
Open Barracks Registration:



*note: All registeration fees are non-refundable