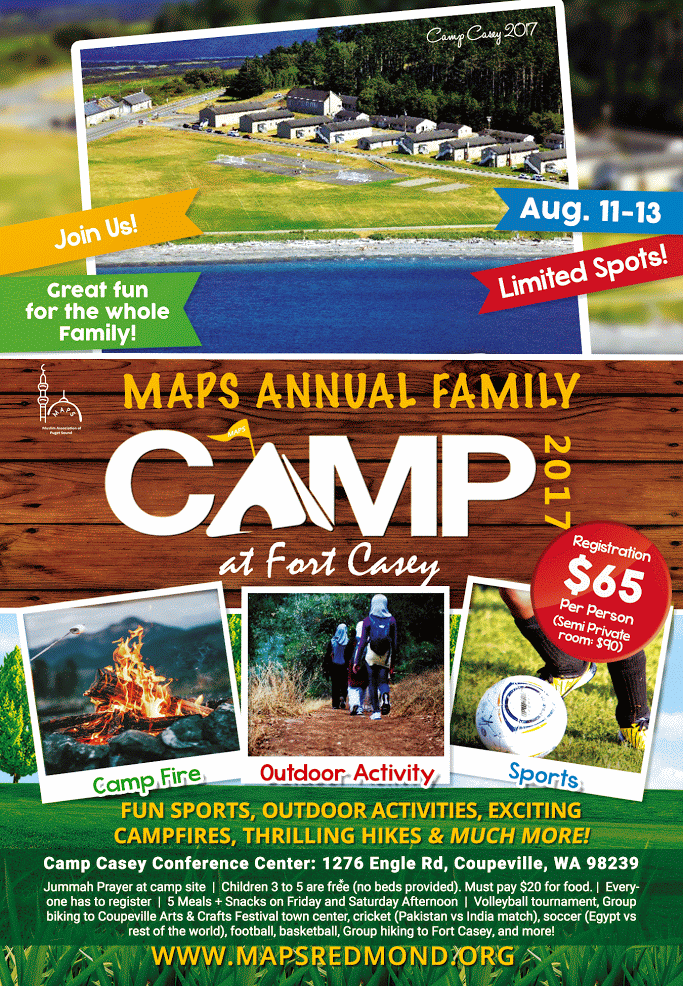 01 Jun

MAPS Annual Family Camp at Camp Casey

MAPS Annual Family Camp at Camp Casey

Aug 11-13

 Assalamu Alaikoum / Peace be up on you

2017 MAPS Family Camp is barely three weeks away. Weather cannot be more perfect for the outdoor activities with friends and families, great opportunity to create everlasting memories and friendships.  On food venue, based on the popular demand we've updated 5 meals menu and have also added

Friday

and

Saturday

afternoon snacks.

On the activities front, following are planned:
Kids games and relay races
Water balloon fight & Tug of war competition for kids and adults
Campfire with marshmallows & s'mores

Friday

&

Saturday
Separate track of activities by MAPS Youth
Swimming for MAPS campers only, reserved times for brothers and sisters
India vs. Pakistan Cricket Match – Your opportunity to play or watch live
Group hikes

on Friday

and

Saturday
Prayers and short khatirah/reminders to keep us spiritually uplifted
 Register for activities here, after you've registered and paid for the camp
Plan to take Friday off and arrive at the camp before Jummah so you can take advantage of two full days of fun and activities. We'll pray Jummah at the camp. 
AS ALWAYS, NO DAY CAMPERS ALLOWED. FACILITIES, ACTIVITIES, AND FOOD ARE PLANNED FOR REGISTERED CAMPERS ONLY.
Spots are limited and on first come first serve basis, register as soon as possible to secure your spot. More information and details to follow on accommodation, food menu, and full program details soon to help you prepare for the camp. There will be sign-up sheets to register for fun sports activities as well, stay tuned.
Address: Camp Casey Conference Center: 1276 Engle Rd, Coupeville, WA 98239
What to Bring?
Lodging
·Sleeping bags, bedding, pillows, blankets – You'll get a twin bed w/ mattress per registered person without bedding/pillows/blankets. Sleeping bags might be useful, it's your choice
·Bath towels, bath soap, and whatever toiletry needs you've
·Warm jacket, scarves, hats, gloves, hiking boots, beach-walking shoes, flashlight (Keep in mind that the temperature on Whidbey Island by the beach/Puget Sound is usually 10 degrees lower than the city)
·First aid kit,insect repellent, pain killer, etc.
·If you're interested in more details on what to bring, see https://spu.edu/depts/casey/Reservations/whattobring.asp
·All lodging is equipped w/ heating
Food & Snacks
·  S'mores: Bring your own halal marshmallows, chocolate, and graham cracker
·  Bring some extra snacks if you like to do munching between three daily meals and especially if anyone in your family has a special dietary restriction on (We will be providing 5 meals total over part of the package)
·  You will have to bring your own lunch for Friday if you come early, as Jawhara Café will not get access to kitchen until Friday afternoon.
Sports and Activities
·  Bring a picnic chair for camp fire, beach, and/or just for sitting in the fields watching sports and chilling
·  Bring your sports gear: Basketball, Football, Soccer, Volleyball, Cricket, Frisbees, hiking boots, beach-walking shoes, etc. appropriate for outdoor sports and activities
·If you have kids, kite would be ideal, as the open space next to the ocean is perfect place to fly kites
·  Water guns, see schedule for a water gun fight below
·  Bring your own bike (road/mountain bikes), in the schedule below, we've a bike ride to Coupeville downtown and water front
·  Swimming costumes – Please note, we've been able to secure private swimming pool hours reserved for brothers and sisters, see schedule below