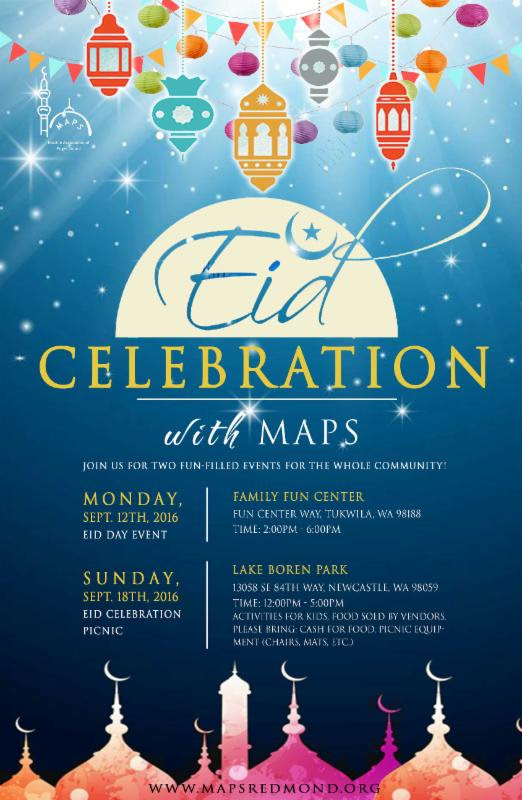 01 Sep

MAPS Eid-ul-Adha Prayers, Parking Guidelines & Celebration

Eid-ul-Adha is on Monday, September 12, 2016 at MAPS

Assalamu Alaikoum

On behalf of Muslim Association of Puget Sound (MAPS), in accordance with MAPS policy of following Fiqh Council of North America and ISNA for Eid announcements, MAPS will celebrate Eid on Monday, Sep. 12, 2016, following the Day of Arafat on Sunday. 

MAPS would also like to encourage community to fast on the Day of Arafat and extend invitation for a Potluck Iftar at MAPS on Sunday, Sep. 11, 2016 @ 7:31pm (Sunset). Please break your fast with us and bring something to share. 

May Allah SWT bless all the Hujjaj (pilgrims) with a Hajj Mabroor, keep them all safe, and return them to their families with safety and security. Enjoy this blessed day of Eid with your friends and families and remember Muslims around the world

Three Eid prayers will be held at MAPS

MAPS wishes you and your family a blessed Eid. May Allah SWT accept your prayers, fasts, udhiya and duas, Ameen! Prayers will start on time. Allow enough time to park and walk to the prayer area. We will have shuttle service from Marymoor park to MAPS.


Three eid prayers will be offered at MAPS, as follows:
Main prayer: 9:30am – Khateeb: Ustadh Ali Ataie

Third prayer: 11:30am – Khateeb: Ustadh Ali Ataie
Speaker Bio:
Ali Ataie has been involved in interfaith activities for over fifteen years. He has been a guest lecturer and guest instructor at several colleges and universities, including Cal Poly State, UC Davis, UC Berkeley, UCLA, Cal State East Bay, and others. He has also engaged in dialogs and debates with a number of Christian scholars on topics ranging from the historicity of the resurrection of Christ (upon whom be peace) and the Prophethood of Muhammad (upon whom be peace and blessings). He studied various Islamic sciences with local San Francisco Bay Area scholars. He is a graduate of the Badr Arabic Language Institute in Hadramawt, Yemen, and studied at the prestigious Dar al-Mustafa, also in Hadramawt, under some of the most eminent scholars in the world. He holds a Master's Degree in Biblical Studies from the Graduate Theological Union in Berkeley, with emphasis upon the New Testament (he is the first Muslim seminarian in the 147-year history of the school to earn this degree). He is certified in Arabic, Hebrew, and Biblical Greek, and is fluent in Farsi. Currently he is working on a Ph.D. in Islamic Biblical Hermeneutics at the GTU and is an adjunct professor of Islamic Studies and lecturer on World Religions at the GTU.
Education: M.A., Biblical Studies, Graduate Theological Union 
Eid Mubark
   APPROVED PARKING
Church Parking (1st Parking Lot ONLY)
Please follow the guidelines below:
Don't park in our neighbors business area 
Don't park in disables stalls unless you have placard 
Don't park in reserved stalls. 
Parents are advised to supervise their children AT ALL TIMES.
Please follow the directions of MAPS Staff, Security and Volunteers. 

Prayers will start on time

. Allow enough time to park and walk to the prayer area. 
1. Eid day – Monday Sept 12
Location: Family Fun Center
Address: Fun Center Way, Tukwila, WA 98188.
2. Lake Boren Park – Newcastle
Sunday, September 18, 2016
Time 12 – 5 pm
Address: 13058 SE 84th Way, Newcastle, WA 98059
Eid Mubarak