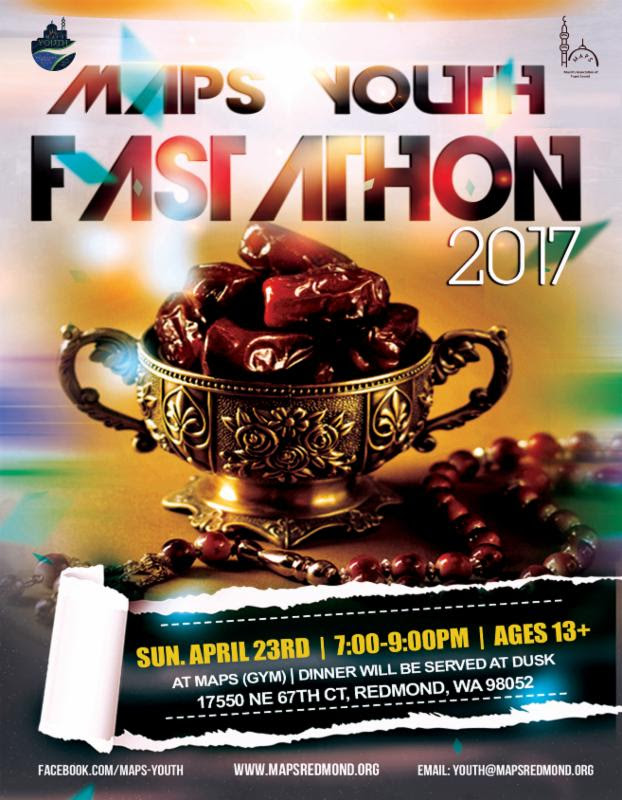 13 Apr

MAPS Youth: Fast a Thon

Assalam-u-alaykum MAPS Youth!!

REMEMBER TO INVITE YOUR NON-MUSLIM FRIENDS!! Like you all wanted last quarter, this event is meant to expose your non-Muslim friends to the Mosque and have them experience fasting! We will meet again in shaa Allah on

Sunday, April 23rd

from

7:00pm – 9:00pm

!

We will

meet up at

6:00PM

to prepare, open the doors at

7:00pm

, listen to some speakers

(let me know if you would like to do spoken word or make a video or speak)

, have reflections and then eat dinner at dusk! If your non-Muslim friend would like to bring a parent/adult chaperone, please just have them indicate it in the registration form. We will have some tables for adult chaperones but the teens will all sit together! We are ALSO asking you all to

calculate (approximate) the money

you would spend on a regular day eating and bring the amount with you to donate to fight hunger! Our goal is to raise a total of 

$250

.  Let's see if we can reach it!

Here's a simple breakdown of what everyone needs to

do

:

MUSLIM YOUTH GROUP MEMBERS: REGISTER for the event and Invite your non-Muslim high school friends to REGISTER for the event!!

NON-MUSLIM YOUTH: REGISTER for the event, and please indicate if you want to bring an adult chaperone

ADULTS: Please indicate if you'll be able to help chaperone the event and also interact with the other adult chaperones

Please register ASAP!