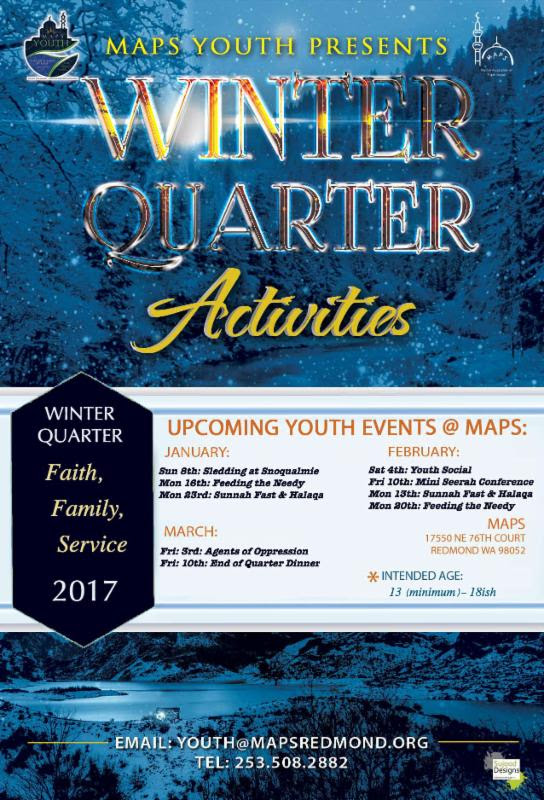 06 Apr

MAPS Youth: Gender Interactions & School Dances Discussion (Friday) & Media Matters (Saturday)

Assalam-u-alaykum MAPS Youth!!

We will kickoff Spring Quarter this

Friday, April 7th at 7:00pm

with a Discussion on

Gender Interactions and School Dances

. I know this is always a popular topic amongst you all so we will talk about it again iA.

On Saturday, April 8th

, we will be working with Sister Aneelah Afzali on a project called "

Media Matters.

" I encourage you all to come to this, we will discuss how to respond to Islamophobia with our own words on social media! This will be

Saturday

at MAPS at

1:00pm

inshAllah! Here are some other things for you as well:
Quotes about MAPS Youth: We need some quotes about your meaningful experiences in MAPS Youth that we can put on our Annual Report for the MAPS Fundraiser
 1-Hang Out Session: This quarter, we will have a project where I will pair you up with another MAPS Youth member (brothers with brothers and sisters with sisters of course ), ideally someone you don't normally interact with and you will need to go out with them for one hour and hang out, whether thats dinner, lunch, dessert, shopping, etc (something that involves talking and not just staring at your phones). You will then record part of you activity and then also record a memorable experience you shared or something meaningful or a funny story that you learned about each other. The videos will be posted on social media and shown at our end of the quarter dinner. You have ALL QUARTER to do this. Participants will get prizes!! 
MAPS Youth Seniors: Please let me know if you will be graduating this year (tears, sad-but proud- face)