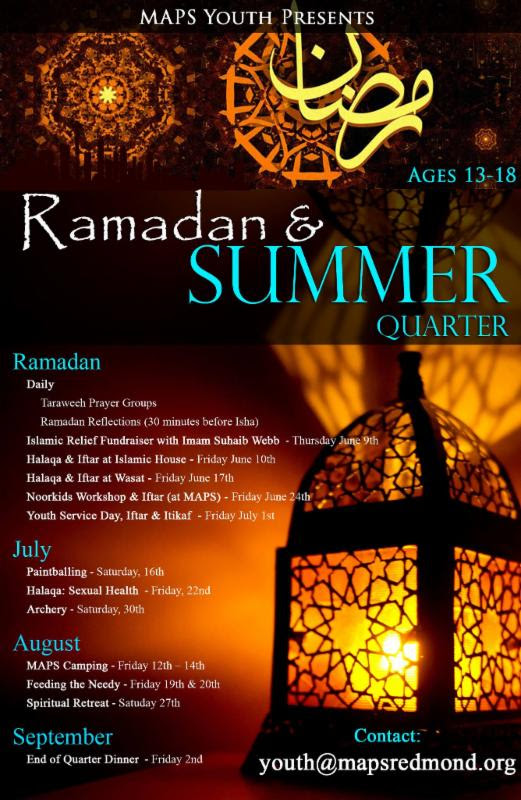 16 Jun

MAPS Youth: Halaqa & Iftar at Wasat

Assalam-u-alaykum MAPS Youth!

Please register by THURSDAY so I can organize rides for this Friday! We will be visiting the Hillman Collaboratory center (5623 rainier avenue south seattle, wa 98118) to break have a halaqa and iftar with Wasat, the organization that is devoted to supporting new and convert Muslims. We leave MAPS at 7:00pm this Friday.

 
Youth Service Iftar

Please start thinking about this! I know some of you wanted to invite you non-Muslim friends to the mosque so for this event (registration will go up next week), you can invite your non Muslim friends to the mosque, and we will first make some food and then deliver it to a homeless shelter, and then break for iftar inshAllah

Friday, July 1st
I also wanted to share some thoughts and some advice regarding the shootings of an LGBT club in Orlando and the political rhetoric following it. First and foremost, this was a heinous crime that has absolutely no justification in our faith..period. We remember that each and every person on this planet has been willed into existence by Allah (swat) and each every one is a son or a daughter or a Prophet, Prophet Adam. Furthermore with the response of media and politicians to once again paint Islam and Muslims as the "other" and "dangerous," I remind you all that this is another opportunity for you to go out and practice your faith to the fullest and show the world the beauty of Islam. If a few insane individuals have complete monopoly over the narrative of Islam and Muslims in America, then the rest of us have failed to establish the institutions to fight such fringe groups. People like Muhammad Ali were loved and respected by Americans because they practiced their faith, worked hard and sacrificed for others. inshAllah we need more Muhammad Alis moving into the future, you all (myself included) need to step it up a little more at our own levels and do what we can to further learn and practice our beautiful faith. Be at the service of others and think about what YOU will do help the Muslim and Global community.
-Ahsen (if you have any questions or just need to talk about something that's on your mind, message me or call me at 253.508.2882)