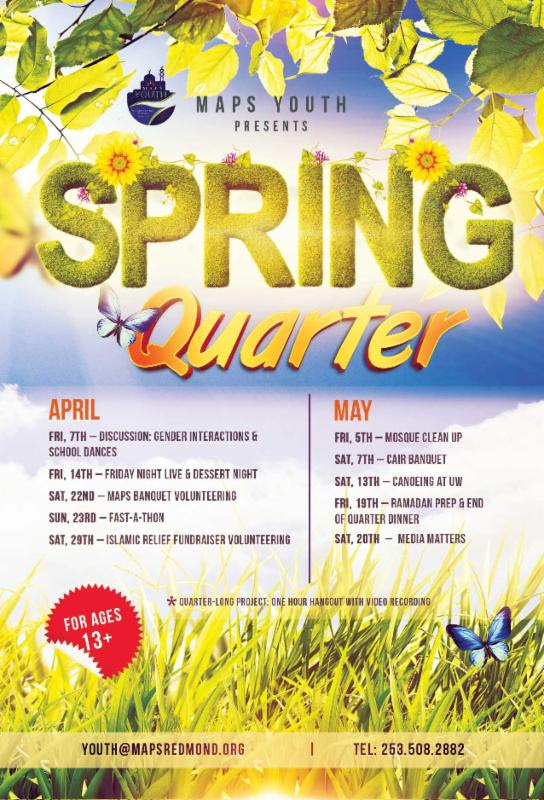 04 May

MAPS Youth: Masjid Cleanup & CAIR Fundraiser

ASA MAPS Youth!! We have a full weekend ahead, please look at all that is going on:
Friday, May 5th
We will be meeting up at 7:00pm at MAPS to clean up our Masjid! There are numerous virtues with cleaning up the prayer spaces and I want you all to get in a habit of taking care of your masjid (and your surrounding areas… if you see trash/garbage, pick it up!!)
Sunday, May 7th
CAIR-WA Banquet: Sunday, May 7th from 5pm – 8pm at the Bellevue Meydenbauer Center; We will be supporting CAIR-WA and having a table at the event! If you are going to the event, let me know and you (or your family) can buy tickets from me (or the website) and then join the MAPS Youth table during the event!! Cost is $50 per ticket if bought before May 1st and $75 per ticket if bought after May 1st or at the door. You can pay on their website or find Ahsen Nadeem to buy tickets from
Community Events:
– MSA-UW Conference: Saturday, May 6th (10am – 7pm) MSA-UW is hosting a wonderful conference at the University of Washington with some dynamic Muslim speakers! For more info and to buy tickets: http://msauw.org/msa-conference/
– MCOC Culture Day: 
Saturday, May 6th
 (
10am – 5pm
), the MAPS MCOC is holding it's annual Art & Culture Day! It should be a wonderful event displaying the diversity of Muslims from around the world!
-Seattle Youth Climate Action Network on
Saturday
, May 6th for a Climate Action Workshop at Woodland Park Zoo:
12 – 4:30pm
at the Woodland Park Zoo (lunch is served)