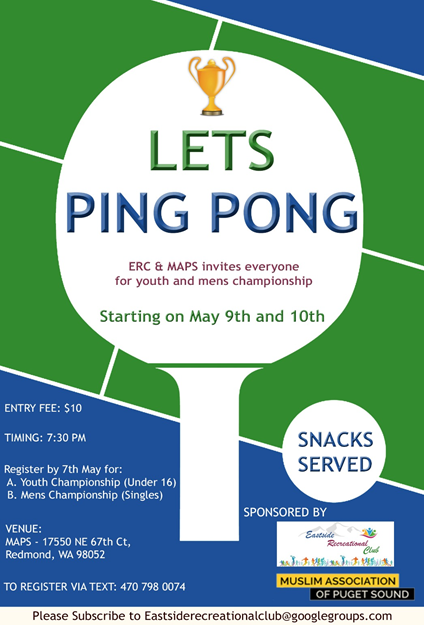 04 May

Ping Pong Championship

Assalamu Alaikoum /Peace be up on you

Eastside Recreational Club (ERC) Partnership with MAPS invites you for Ping pong championship league for Adults and youth starting on May 9th.

It's a great opportunity for all members of our community specially our youth to participate and compete in this league and also find hidden talent in our community itself.

Please subscribe to eastsiderecreationalclub@googlegroups.com for any future updates for this event and also for the rules and regulations and league details.

Register via Text : 470- 798-0074

Venue: MAPS

Date: 9th & 10th

Time: 7:30 pm

Entry Fee: 10$ Per person per league
Leagues:
Game format: Each individual/Team will be playing at least 3 league games and qualify for playoffs
Please RSVP click here and also please note we are closing the registration by May 7th.
Jazakum Allah khairan!!
FAQ:
Q) Some brothers are were asking if this event  can be moved to weekends.
A) unfortunately MAPS is not available for weekends till Ramadan. Since this is on weekday we will publish the schedule beforehand so individuals will be knowing what time to show up and also plan their time accordingly InshAllah
Q) Is the registration fee 10$ per person  including singles and doubles league
A) Each league is separate. If you want to participate in singles and doubles then it will be 20$ for an individual