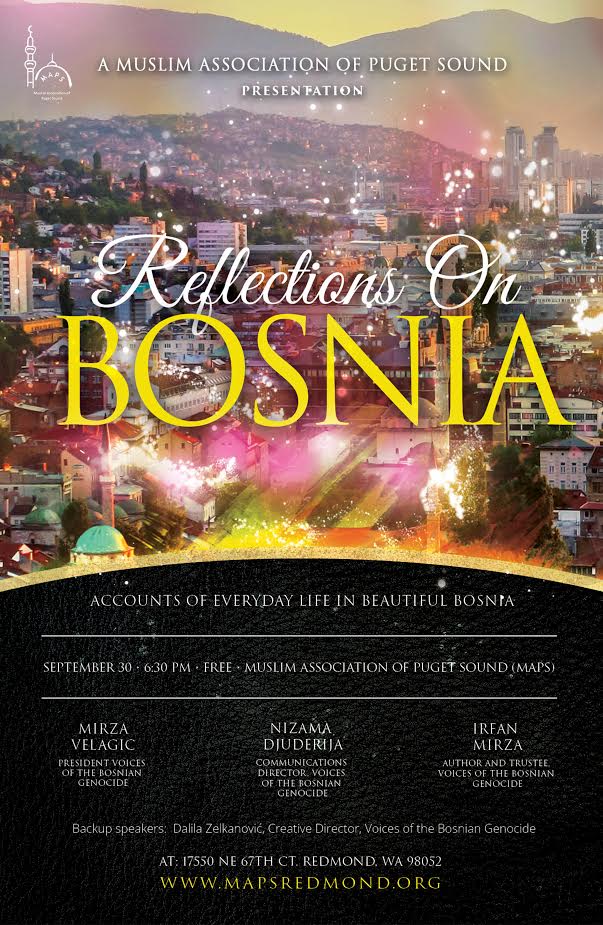 31 Aug

Reflections on Bosnia at MAPS on 9/30 at 6:30PM

Assalamu Alaykum / Peace be upon you, 

"Those who fail to learn from history, are doomed to repeat it." 

Only 20 years ago, Europe witnessed atrocious campaigns of ethnic cleansing and genocide that took the lives of 100,000 people, and displaced 2 million from their homes. In the town of Srebrenica, 8,000 Bosnian Muslims were mercilessly executed and another 25,000 expelled. Concentration camps were set up, torture and rape were rampant. The tragic events in Bosnia remind us of the evils that can be perpetrated when good people let their guards down. 

MAPS along with 'Voices of the Bosnian Genocide' have put together an esteemed panel of experts to reflect on and discuss these tragic events that occurred in Bosnia. What does the future hold for this nation that survived genocide? The program is free and open to the public. Bosnian delicacies will be served along with coffee.  

Please attend and encourage your friends and colleagues to attend. 

Please RSVP (free):  Click here to register   

Program: "Reflections on Bosnia"

 Date/Time: Friday 9/30 at 6:30PM

 Venue: Muslim Association of Puget Sound (MAPS), 17550 NE 67th Ct, Redmond, WA 98052. Tel. 425-861-9555 

 Agenda:

1. Irfan Mirza "40,000 Years of Bosnian History"

2. Panel Discussion "Current State and Prospects for the Future of the Bosnian people"

 Panel: 

1. Mirza Velagić, President Voices of the Bosnian Genocide

2. Nizama Djudjerija, Communications Director, Voices of the Bosnian Genocide

3. Irfan Mirza, Author and Trustee, Voices of the Bosnian Genocide 

About the Speaker Irfan Mirza:

From 1992 to 1994, Irfan crisscrossed front lines of the war in Bosnia and Herzegovina to deliver humanitarian aid to besieged towns and villages under intense fire. During the war, he was an advisor to the United Nations field office in the region; and in 1995 he provided critical consultation to Dr. Sabrina Ramet, one of President Bill Clinton's advisors on Bosnia. 

Irfan has written two important books on Bosnia through Halton Creek Publishing in Vancouver, Canada. "The History of Bosnia and Herzegovina," is a text that chronicles the origins of the Bosnian people, dating back to Paleolithic times. His other book, slated to be in college bookstores Winter quarter 2017, is entitled, "A Framework to Understand the Bosnian Genocide". This upper-division college text serves as a basis for sociology, political science and genocide studies, providing students structured guidance on characterizing and classifying socio-political events and trends that are common and prevalent before, during, and after genocidal pogroms.