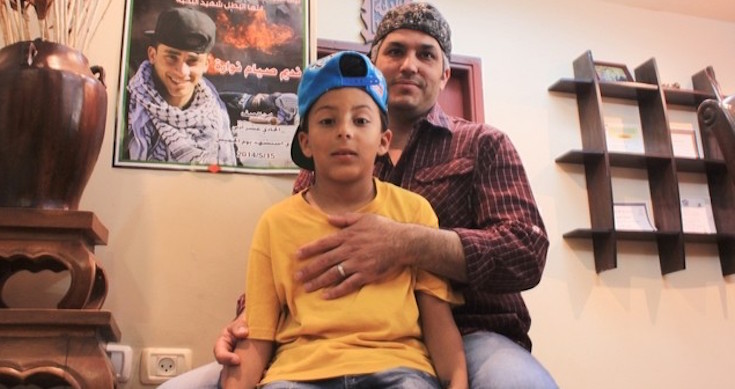 27 Aug

Siam Nowarah, father of 17-year old shot in West Bank, to stop at MAPS on U.S. tour

 
Assalamu Alaykum,
Last year, an Israeli border police officer shot and killed 17-year-old Nadeem Nowarah at a protest in the occupied West Bank. With Nadeem's death, his father Siam began his pursuit for justice from Ramallah to the United States.  Siam has been traveling across the U.S. for the past two months 
visiting Congress, the U.S. State Department, the United Nations, and various human rights and solidarity organizations. He will be at MAPS this coming 

Friday, August 28th

after Asr at

6:00pm

in the MPR room to give us an update on Nadeem's case and what it means for the cause of justice in Palestine.
Footage from CCTV cameras and CNN video show Nadeem did not pose any imminent threat to Israeli forces at the time he was killed. While Israeli authorities denied the use of live ammunition and asserted that only rubber-coated metal bullets had been fired by Israeli forces, Siam found a bullet covered in blood in Nadeem's backpack four days after his death. Siam also made the agonizing choice to exhume Nadeem's body just one month after his death so an autopsy could prove what he already knew. The overwhelming forensic and video evidence Siam was able to collect, combined with international pressure, forced the Israeli authorities into a rare position where they could no longer deny that Nadeem was an innocent victim of Israeli police violence. On November 23, 2014, Israeli prosecutors identified the individual as 21-year-old Ben Deri and charged him with the lesser charge of manslaughter. Siam is driven to pursue justice not only for his son but to challenge the culture of impunity that led to the killing of so many innocent Palestinian victims.
Please make time to come and hear Siam
this Friday

. If you are planning to attend the

7PM

event with Shaykh Kamal El Mekki, please come one hour earlier and hear Siam.
Further background on Nadeem's case here: View on CNN  and View On IMEU
Jazak-um-Ullah-Khairan