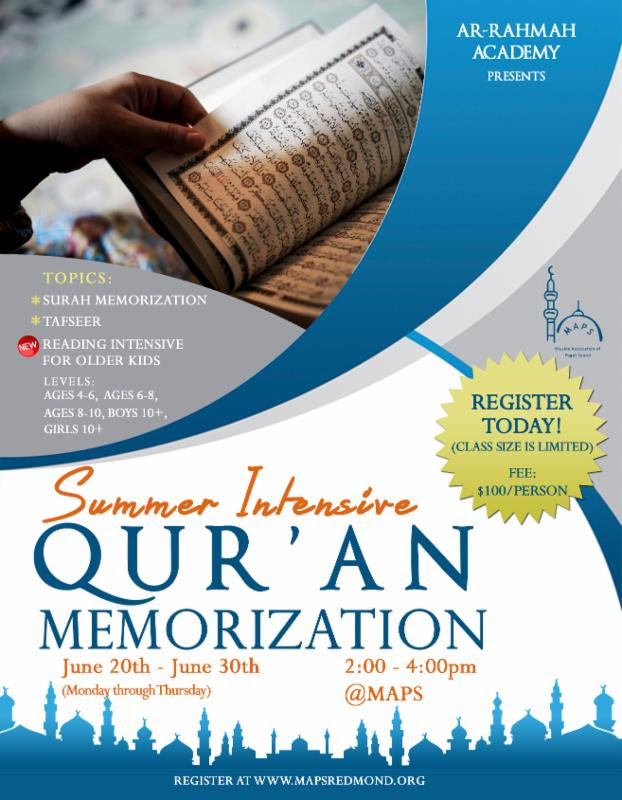 28 Apr

Summer Intensive Quran Memorization

Ar Rahmah Academy is pleased to announce its 6th year of Summer Intensive Quran Program. Alhamdulillah, this year we have introduced a new "Reading Intensive" class, primarily for older students who want to make their Quran reading fluent. As this is a short 2 week program, we try to keep the classes small to keep our quality high. Please register now!

Be on the lookout for our NEW Summer 2 program this year!!!

Any questions? Please feel free to send an email to education@mapsredmond.org.
The following is the list of Surahs that will be memorized by the students. We will try to cover as many as we can in the 3 weeks.
Level 1 (Ages 4-6) – Sr. Sally/Sr. Samaa/Sr. Ghina
At Takhatur
Al Qariah
Al Aadiyat
Al Zalzalah
Review of old surahs
Level 2 ( Ages 6-8) – Sr. Dania
At Tin
As Sharh
Ad Duha
Al Layl
Review of old surahs
Level 3 (Ages 8-10) – Sr. Naglaa
At Tariq
Al Buruj
Al Inshiqaq
Level 4 (Ages 10+) (Girls) – Sr. Dina & Sr. Oumaima
Individual Hifz
Level 4 (Ages 10+) (Boys) – Br. Junaid Ahmad
Individual Hifz
Quran Reading (Ages 7+) (Tilawah) – Sr. Futoun
Please note that according to the student's level, the surahs may be different. Parent's help at home is highly recommended. We recommend that children listen to online websites like www.quranexplorer.net to practice every day. Assigned teachers may are tentative and could change.
PN: The above information is subject to change
Jazakallah Khairan