22 May

Welcome Ramadan 2017: This Year's Programs
O you who have believed, decreed upon you is fasting as it was decreed upon those before you that you may become righteous (2:183)
---
Ramadan Newsletter
---
In This Issue – Ramadan 1438h

 
---
---
Welcoming Ramadan 1438h
Muslim Association of Puget Sound (MAPS) would like to congratulate the community on the arrival of the blessed month of Ramadan. It's that time of the year, which brings our community close to each other worshiping together in harmony and peace connecting to our God spiritually. As always, May Allah SWT make the upcoming Ramadan also source of blessing and forgiveness for all.
We pray to Allah SWT that all of you have a blessed Ramadan and a spiritually uplifting experience. Please continue to provide us feedback by sending an email to:
feedback@mapsredmond.org
---
When?
First day of Ramadan is on
Saturday, May 27
and last day of Ramadan is going to be on
Saturday, June 24, 2017
, followed by Eid on
Sunday, June 25, 2017.
---
 President Message 
"Ramadan is the (month) in which was sent down the Qur'an, as a guide to mankind, also clear (signs) for guidance and judgment (between right and wrong). So every one of you who is present (at his home) during that month should spend it in fasting, but if any one is ill, or on a journey, the prescribed period (should be made up) by days later. Allah intends every facility for you; He does not want to put to difficulties. (He wants you) to complete the prescribed period, and to glorify Him in that He has guided you; and perchance ye shall be grateful." [Qur'an 2:185]
We are all very excited to welcome Ramadan again this year! Ramadan is the month when we rejuvenate our souls, when we strengthen our faiths, when we intensify our Ibadaat's (good deeds), when we curtail our bad habits, when we rally around our families and when we solidify our community. Ramadan is also the month when we deepen our love of the Qur'an, when we seek to emulate the Prophet's noble character and when we respond to our Lord's call! Ramadan is the month when MAPS comes alive!
 As in past years, we have put in place many programs for the coming month to make our collective experience during this blessed month one of deep peace and deep faith. These programs re-emphasize MAPS vision "to inspire and foster a community that impacts the quality of life and spirituality for the individual, family and society guided by teachings of Quran and Sunnah". I hope you and your whole family will participate in these programs, support and enhance them and make MAPS your Masjid!
---
Imam Message 
As Ramadan is fast approaching, Let's prepare our hearts and minds that We may be united spiritually with the almighty one. Ramadan Mubarak!
The Philosophy of fasting call upon us:
to know ourselves
to master ourselves
to discipline ourselves
to free ourselves
May the month of Ramadan be cheerful.
Ramadan Mubarak!
---
Ramadan Prayer & Taraweeh Program 
Recite, [O Muhammad], what has been revealed to you of the Book and establish prayer. Indeed, prayer prohibits immorality and wrongdoing, and the remembrance of Allah is greater. And Allah knows that which you do. (29:45)
Isha salat will start at
11PM
and end by
12:15AM
nightly. Our own beloved Imam Joban will oversee the qari's leading the prayer throughout this blessed month. Our teacher Hassan Alarusi will lead at least 4 rakaat's of Taraweeh daily. He will be assisted by 4 other qari's, including by the much sought-after Qari Abdelakrim Edghouch who will visit us from Texax for 3 nights, to make sure we have a truly spiritual experience. Please see the booklet for a full qari and reading schedule. Babysitting will be provided during Taraweeh at minimal cost.

To print or view full month prayer time click here.
| | |
| --- | --- |
| Taraweeh Schedule | Prayer Schedule |
---
Iftar  & Suhoor  Program
On weekdays, we will host Iftar for 150-200 singles. On Fridays and Saturdays, we will host Iftar for the broad community and expect between 500-600 attendees. During the last ten nights, we will host Suhoor for 300 people.
At $10 per person, daily Iftar cost up to $2000, week-end Iftar $6000 and Suhoor $3000 (not accounting for paper wares, cleaning staff, etc.). We are seeking individual and group sponsors to alleviate this cost. Please sponsor Iftar and Suhoor here:
---
Khatirah (spiritual reminders) covering the juz on that night to be recited are presented in English 15 minutes before the start of Isha prayers. You're encouraged to come early and participate in learning overview of surahs being recited every night.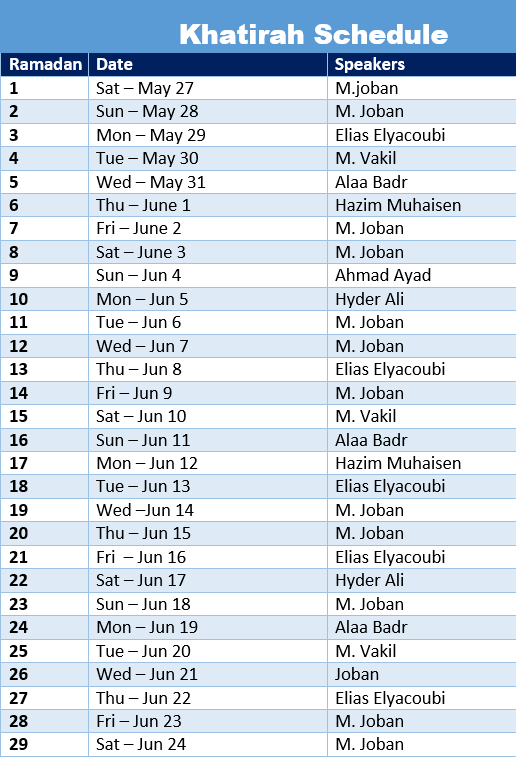 ---
 

Qiyamul Lail 

                                  
Last nine nights this year will constitute last ashara of Ramadan, hence we'll start our qiyamul lail program starting 21st night of Ramadan, June 15, 2017.
Qiyamul Lail Schedule

---
MAPS MCRC Ramadan Food Drive
MAPS-MCRC has prepared boxes each containing basmati rice, lentils, beans, pasta, cooking oil, tea, sugar and dates to be distributed to needy families on May 20th before Ramadan starts. These Ramadan boxes will enable the families to have basic food items during this month. The boxes are costing $60 each – please sponsor one or more families below.
---
Interfaith Iftar
The Interfaith Iftar, a program put together by MAPS-IOC, will be held on 
Wednesday June 7th 6:00 PM to 9:30 PM
this year. Please invite your non-Muslim friends, neighbors and colleagues to this popular event celebrating our faith and ethos. Click at link below to register.
---
Itikaf Program
Young adults (14+) and grown-ups are welcome to spend the last 10 days of Ramadan in the Masjid. Amenities and sleeping arrangement for full and partial Itikaf will be made available. Note, registration and signing a code of conduct form are required for all those interested. Click
here
to register.
---
Saturday, June 17, 2017 at 2:00pm
---
Fundraising Efforts 
Organizations serving the community rely on our generous donations during Ramadan to raise funds for their operations throughout the year. These fundraisings also provide a channel for the community to fulfill their Zakat/sadaqa obligations and benefit from the increased rewards during the blessed month.
Instead of having fundraisings every weekend night, we have transitioned to a model to streamline and optimize everybody's experience during taraweeh prayers. MAPS will hold total of four (4) fund raisings throughout the month of Ramadan during taraweeh prayers and one after Jummah, as follows:
Group 1 – Friday, June 2 During Taraweeh
Speaker: Sh Abdul Jalil Mezgouri
Islamic Relief – Global relief and development
Uplift Dawah – Local group dedicated to promoting peaceful dialogue with the hope of clarifying misconceptions about Islam
Muslim Legal Fund of America – a charity that funds legal work and programs to defend Muslims against injustice in American courtrooms, prisons, and communities
Mercy Association – Local group focused on uplifting refugee community of Seattle by addressing intellectual, spiritual, emotional and social needs.
Group 2 – Saturday, June 10 During Taraweeh
Speaker: TBD
CAIR WA – works to enhance the understanding of Islam, encourage dialogue, protect civil liberties, empower American Muslims, and build coalitions that promote justice and mutual understanding
ICNA WA – Local chapter of national organization focused on education, outreach and social services
Muslim Housing Services – Serves king county's homeless families to help them overcome barriers to attain self-sufficiency and achieve permanent housing
Medina Academy – Medina Academy is a full time non-profit private Islamic school located in Bellevue, Washington
Two Fundraising will be exclusively for MAPS
Friday, June 9, 2017

after

Friday

Prayers – Imam Mohammad Joban

Wednesday, June 21, 2017

during Taraweeh (27th Night of Ramadan) – Sh. Rodwaan Saleh
---
Friday Khateebs in Ramadan
We'll have following khateebs on Fridays during Ramadan.
---
Children Program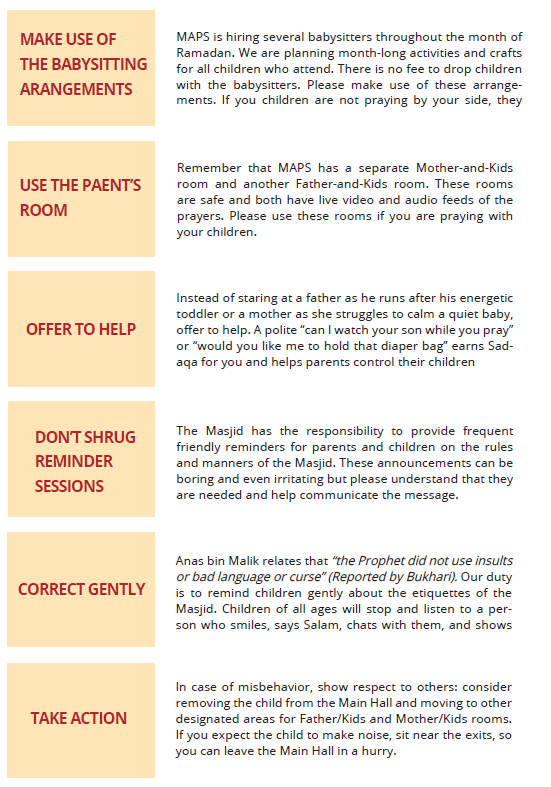 ---
Eid Prayer at MAPS  
Eid prayers are the most attended events at MAPS. There're kids' activities and celebrations after the prayers. We hope that you, your family and friends can all join us this year. MAPS will hold three (3) Eid Prayers on
Sunday, June 25, 2017
.

---
Feature Video

The Month of Forgiveness
Ramadan 2017 Ustadh Nouman
The month of Ramadhan [is that] in which was revealed the Qur'an, a guidance for the people and clear proofs of guidance and criterion. So whoever sights [the new moon of] the month, let him fast it; and whoever is ill or on a journey – then an equal number of other days. Allah intends for you ease and does not intend for you hardship and [wants] for you to complete the period and to glorify Allah for that [to] which He has guided you; and perhaps you will be grateful. (2:185)
---
Dua at Iftar Before Breaking Your Fast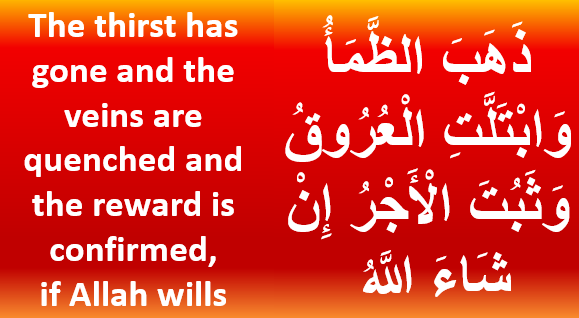 ---