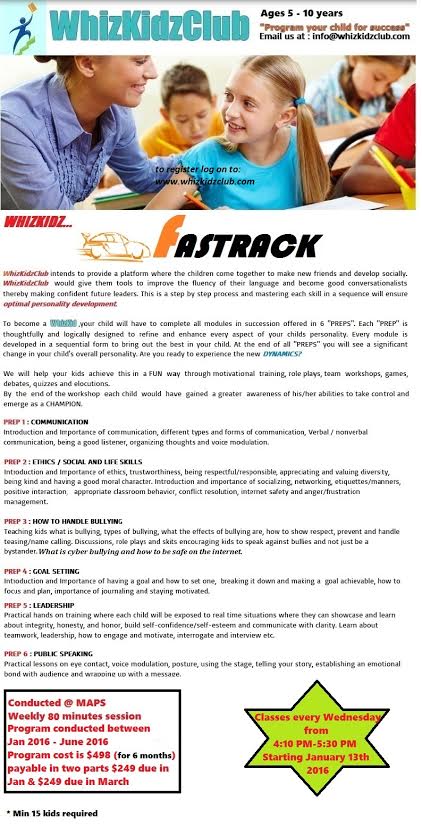 01 Jan

WhizKidzClub
MAPS EDUCATION INTRODUCES WHIZKIDZCLUB
WhizKidzClub intends to provide a platform where the children come together to make new friends and develop socially. WhizKidzClub would give them tools to improve the fluency of their language and become good conversationalists thereby making confident future leaders. This is a step by step process and mastering each skill in a sequence will ensure optimal personality development.
Students who took PREP 1 last year get $30 off (appropriated if making 2 payments)
Limited space available.
NO LONGER OFFERED 
To become a WHIZKID, you child will have to complete all modules in succession offered in 6 "PREPS". Each "PREP" is thoughtfully and logically designed to refine and enhance every aspect of your child's personality. Every module s developed in a sequential form to bring in the best in your child. At the end of all "PREPS' you will see a significant change in your child's overall personality. Are you ready to experience the new DYNAMICS?
We will help your kids achieve this in a FUN way through motivational training, role plays, team workshops, games, debates, quizzes and elocutions. By the end of the workshop each child would have gained a greater awareness of his/her abilities to take control and emerge as a CHAMPION.
PREP 1: COMMUNICATION
Introduction and importance of communication, different types of and forms of communication, verbal/nonverbal communication, being a good listener, organizing thoughts and voice modulation.
PREP 2: ETHICS/SOCIAL AND LIFE SKILLS
Introduction and importance of ethics, trustworthiness, being respectful/responsible, appreciating and valuing diversity, being kind and having a good moral character. Introduction and importance of socializing, networking, etiquettes/manners, positive interaction, appropriate classroom behavior, conflict resolution, internet safety and anger/frustration management.
PREP 3: HOW TO HANDLE BULLYING
Teaching kids what is bullying, types of bullying, what the effects of bullying are, how to show respect, prevent and handle teasing/name calling. Discussions, role plays and skits encouraging kids to speak against bullies and not just be a bystander. What is cyber bullying and how to be safe on the internet.
PREP 4: GOAL SETTING
Introduction and Importance of having a goal and how to set one, breaking it down and making a goal achievable, how to focus and plan, importance of journaling and staying motivated.
PREP 5: LEADERSHIP
Practical hands on training where each child will be exposed to real time situations where they can showcase and learn about integrity, honesty, and honor, build self confidence/self esteem and communicate with clarity. Learn about teamwork, leadership, how to engage and motivate, interrogate and interview etc.
PREP 6: PUBLIC SPEAKING
Practical lessons on eye contact, voice modulation, posture, using the stage, telling your story, establishing an emotional bond with audience and wrapping up with a message.
CONDUCTED AT MAPS weekly 80 minutes sessions
Classes every Wednesdays from

4:10 PM – 5:30 PM

STARTING

JANUARY 13th, 2016

Program conducted between Jan 2016- June 2016
Program cost is $498 (for 6 months)
Payable in two parts $249 due in Jan  & $249 due in March
PLEASE VISIT WWW.WHIZKIDZCLUB.COM FOR REGISTRATION.
*Min 10 kids required.