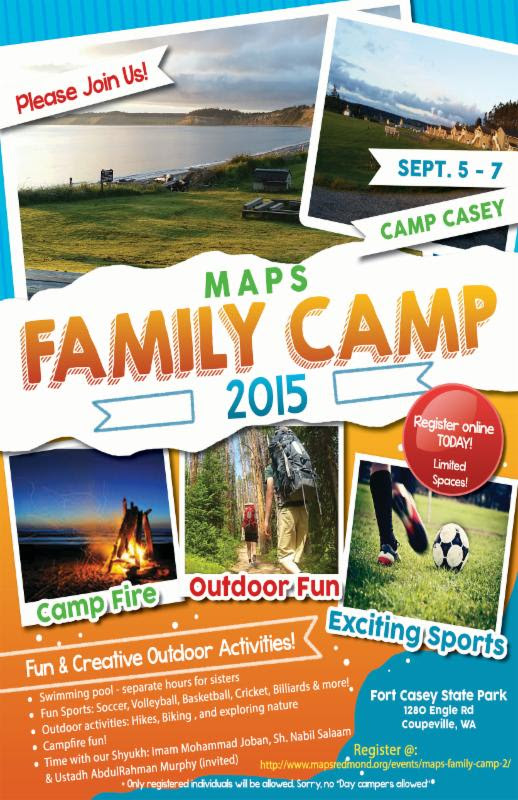 05 Jul

MAPS Family Camp w/ AbdelRahman Murphy!
MAPS Family Camp 
with 
AbdelRahman Murphy

Theme:
 

Strengthening the bonds of Brotherhood
Where: Camp Casey, Whidbey Island
When:

 

Labor Day Weekend – Saturday, Sep. 5 to Monday, Sep. 7, 2015
Activities:
 

Swimming in the pool/ocean, soccer, volleyball, basket ball, cricket, hiking, biking, camp fire, football, table tennis, pool…
 Joining us will be none other than Br. AbdelRahman Murphy!!
We'll have separate youth track for youth activities with our Youth Director, br. Ahsan
Registration is open on a first come, first served basis with full payment. You've to complete payment to ensure you're registered.
Registration is non-refundable, if for any reason, including weather, you can't go, we'll not be able to refund your money.
Rain or shine, we'll inshaAllah have the camping, as our main goal is community bonding and there're many activities to choose from.
Meals included in the price: 
Saturday, Sep. 5 Dinner

Sunday, Sep. 6: Breakfast, Lunch, and Dinner

Monday, Sep. 7: Breakfast
Bring your own lunch for Saturday, Sep. 5, if you plan to arrive early. Check in time for lodging is 3pm, but park will be available for all the sports activities all day, therefore you should plan to arrive early on Saturday, Sep. 5. Camp Casey is accessible via Mukilteo-Clinton ferry and by road via Deception Pass, check ferry-wait times to decide on the optimal route. We'll provide more information to all the registered people as we get close to the camping date. Ensure you provide a valid email for us to communicate on.
Kids 5 and under are free, as long as they share the bed with their parents
All prices below are inclusive of lodging and meals. Bring your own sports gear.
NO DAY CAMPERS ALLOWED – IF YOU'RE NOT REGISTERED TO COME FOR TWO DAYS, PLEASE DON'T COME FOR THE DAY ONLY AS FACILITIES AND FOOD ARRANGEMENTS ARE LIMITED FOR REGISTERED CAMPERS ONLY
Option 1

: Semi-Private Rooms – $85 per person

 

– You'll sleep in your own room, where each room has two beds. If your family is more than two people, you'll have multiple rooms. If you've odd number of people in your family, you may have to share one room with another family. Shared bathrooms per floor-

REGISTER FOR OPTION #1
Option 2

: Open Barracks – $65 per person
 

– Separate hall for brothers and sisters in an open space with beds. Shared bathrooms per floor- REGISTER FOR THIS OPTION FOR OPTION#2